Regular price
Rs. 849.00
Sale price
Rs. 849.00
Unit price
per
Sale
Sold out
Patanjali Yoga Sutra: A psychologist par excellence, Maharishi Patanjali was a seer who lived sometime around the 2nd century BCE. He knew the twists and turns, the pitfalls and the intricacies of the labyrinthian miracle called the mind. Maharishi Patanjali was not only well versed with the craftiness of this mind but also knew a way to master the mind. The definitive authority on the body, mind and soul, his Yoga Sutras are an eye opening account, and perhaps the most advanced textbook of psychology. 2200 years later, this text is still the authority on the biggest global trend, that is Yoga. 2200 years later, his text finds relevance in our lives cutting across languages, cultures, borders, time. Yoga is helping people across the world deal with life and living, even today. But what is one supposed to make of the sutras written almost like a computer code? According to Patanjali, 'Santosha' or contentment is the basic requirement for growth. But how do we get there in this day and age of anxiety and depression? Gurudev Sri Sri Ravi Shankar decodes the Sutras with his customary wit and elan, making it an essential addition to everyone's reading list. For anyone trying to navigate the murky waters of life, this book is sure to steer you to a safe shore.
View full details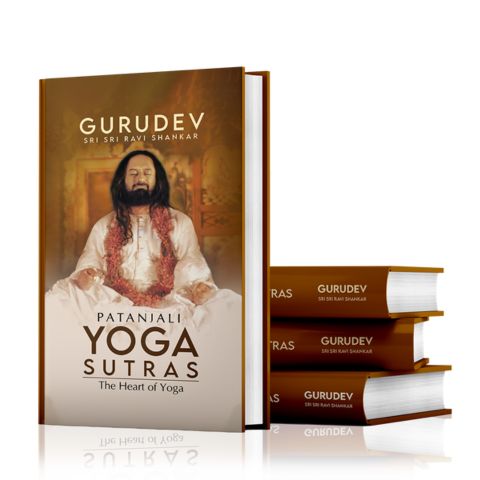 Guruji's explanations are always easy to understand.
I am always fascinated by Guruji's explanations. It makes a difficult concept easy to understand.
Good
Pathanjali Yoga Sutra" by Sri Sri Ravi Shankar is a valuable resource for anyone interested in deepening their understanding and practice of yoga. With its practical wisdom, accessible language, and spiritual depth, this book serves as a guide to unlocking the transformative power of the ancient yoga philosophy in our modern lives. Whether you are a beginner or an experienced practitioner, this book can offer valuable insights and inspiration on your spiritual journey.
PYS
I have heard PYS a few times, but reading it gave me the opportunity to read it over and over. So grateful for the book.
Excellent book… it deals with day to day life…. Superb!!
Must Read
This is one of my favourite books and I have read many versions of Patanjali Yog Sutra in Hindi as that being my mother tongue. I ordered the english version to check the quality and i was not disappointed. You won't understand the meanings as good as they can be understood in hindi versions of Swami Vivekanand but if Hindi is not your preferred language them this is a good read. Please read a few other versions from other authors to have deeper meaning of the sutras.