Regular price
Rs. 11,999.00
Regular price
Rs. 14,995.00
Sale price
Rs. 11,999.00
Unit price
per
Sale
Sold out
Introducing the world's first illustrated talking book on Sampoorna Hanumaan, which provides comprehensive information about Lord Hanumaan.
This book covers 14 topics, including Sundarakanda, Hanumaan Chalisa, Bajranga Baana, Hanuman Bahuka, Hanuman Kavacham, and more. It is available in nine different languages and features a beautifully crafted hardcover bound with aquas coating, golden glittering, and golden edges. The book boasts high-quality printing and a speaking feature for added convenience. As a bonus, readers will receive a free pictorial book for kids on Bal Hanumaan.
Product Features: 
The world's first speaking book on Sampooran Hanumaan with a reading pen (Gyan Vajra).
The reading pen has an inbuilt high-quality speaker that reads, records and plays.
The speed control of tracks allows you to listen at your comfortable pace.
Multi-sensory technology: Now you can learn at your convenience and pace. The device uses a multi-sensory book and reader that has a unique combination of TOUCH-SOUND-VISUAL technology. Each touch to the pages triggers audio responses that engage the reader for a longer time and enable independent learning. · Interactive art illustration: Over 180 original illustrations with built-in interactivity. ·
The premium gift box: An attractively designed gift box containing Sampoorna Hanumaan, Wisdom flute, Charger, which can be gifted on any occasion.
Sampooran Hanumaan includes everything about Lord Hanuman - Chalisa, Sundarkand, Bajranga Baana, Hanuman Bahuka, Hanuman Kavacham, Bhajan, Aarti & Chant 1000 names of Sri Hanuman.
Multilingual (9 languages): This book has the capability to speak in multiple languages, including English, Hindi, Tamil, Telugu, Marathi, Kannada, Assamese, Gujarati & Nepali.
 Hanumaan Tilak blessed from 3 Holy Shrines of Delhi, Ayodhya & Varanasi adds its own value. The reader can use the tilak before starting to read.
Bhajans of Sri Rama and Hanuman are sung by 15 world-renowned singers.
Hanumaan Chalisa Sung in 10 Different Melodies by Art of Living Singers.
108 Hanuman Names with Meaning.
Enabled Braille-like technology for the visually challenged.
View full details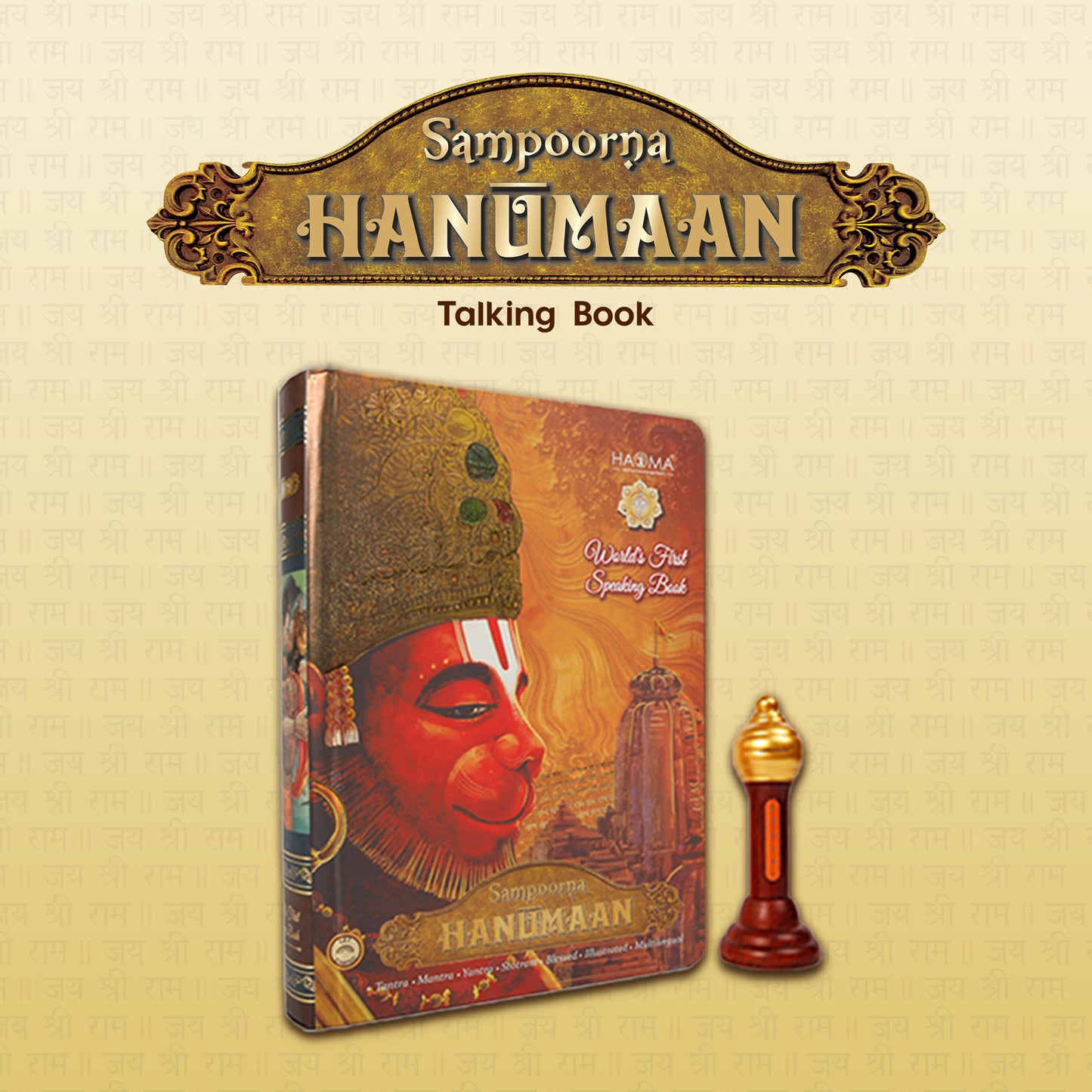 Too good for whole family
It's just too good and engaging. Very thoughtfully made and lots of research has gone into it, one can get the feel. Perfectly delivering timeless knowledge from scriptures in modern form, putting technology to good use!. Each illustration is masterpiece in itself.